Doug Sahlin's Digital Photography Blog
Rants, raves and other delights!
I saw this crusty character rescuing a rowboat that had obviously been in the water for a long time.  I asked if I could take a picture while he worked. After he said yes, I took a couple of pictures. It's always safer to ask someone if you can take their picture than trying to sneak in a couple of shots. It's a lot safer too. I edited the image in Lightroom 2 and then used the Silver Efex Pro plugin to convert the image to black and white.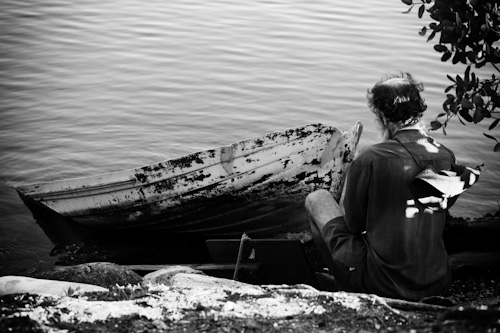 I love the gritty look of high speed black and white film. I also enjoy street photography. Street photography at night poses problems. You end up with long exposures which means you'll get noise in the shadow areas of your image. The Canon EOS 5D MKll does a remarkable job at high ISOs with barely a trace of noise. I shot the following images with a Lenababy Composer with the Creative Aperture Star insert, which equates to f/4.0. This aperture insert creates star wherever there's an out of focus highlight. I processed the images in Lightroom using the NIK Silver Efex Pro plug-in to emulate the look of Kodak Tri-X black and white film.